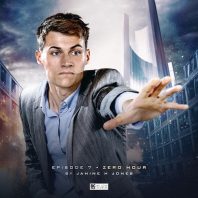 Released October 2017
SOME SPOILERS FOLLOW
Aliens Among Us has so far made no secret of the fact that the Cardiff on display is suffering both politically and economically as bigotry continues to escalate and the Sorvix race continues to take hold behind the scenes. However, in 'Zero Hour' by Janine H Jones, a company known as Deliverables has created an economic boon for the city by employing people from all walks of life to deliver the post, packages, and meals. Not all is as idealistic as it seems, however, and Tyler soon discovers the dark secret behind Deliverables in a dark allegory to today's app-obsessed and result-based society.
Jonny Green made an instant impact as the confident but far from flawless Tyler Steele introduced in 'Changes Everything,' but since failing his impromptu examination by needlessly sacrificing innocent lives he has only managed to remain more in the outer circles of Torchwood while also establishing himself in mayor Ro-Jedda's office. Here, though, the character very much steps once more into the spotlight as Tyler implores Gwen to launch an investigation into the mystery behind the delivery man he has come to fancy who pays him no attention and who seems peculiarly stuck in a repetitive pattern day after day. Following both his innate curiosity and more natural urges, he comes to strike up a genuine and mutual relationship with Hassan, a character who believes Deliverables to be a godsend for allowing people with backgrounds like his to find gainful employment in the increasingly close-minded and impoverished Cardiff. After simply downloading an app, a voice tells its members exactly what to do to most efficiently deliver packages across the city, from how many boxes to pick up in simple increments to how many steps to take before the next turn.
Sacha Dhawan portrays Hassan as a genuinely kind and good-meaning individual who is wholly dedicated to doing his work even as Tyler continues to press for more information before joining Deliverables himself to get the inside story on what must assuredly be a major factor in the mayor's recent claims about the unemployment rate decreasing. Tyler knows that this is too good to be true and that the entire system must collapse once benefits enter into the equation following a probationary period, and finding that at least some of the boxes are filled with nothing but sand seems pointless other than as a test, but the relationship he develops with Hassan as each tries to make the most of their unaligned rest breaks to be with each other while remaining efficient is heartwarming and offers a small glimpse at hope and light in the despair and darkness of these times. Green excels in a playing a man slowly becoming more single-minded and committed to following the emotionless voice's orders, and the tremendous scene in which he discovers and reveals the truth of the sand is genuinely moving as all of the preceding events are placed into an entirely new context.
'Zero Hour' isn't quite as successful with its more in-depth exploration of a new team member as the previous 'A Kill to a View' despite the stakes being just as deadly, but it nonetheless offers an exemplary look at Tyler as a man who follows his instincts for better or for worse. The true purpose and intention behind the company and its patterns are superb, and although the story purposefully features a lot of repetition while the other Torchwood team members are off on their own, 'Zero Hour' still delivers an unnerving and emotional journey that further fleshes out the state of Cardiff's change occurring in the background as daily life carries on seemingly unaffected.